Belize is a small country in Central America which borders Mexico to the North, Guatemala to the West and South with the Caribbean Sea to the east.  There are over 200 Cayes (islands) in Belize, most of them located within the Barrier Reef Reserve. We found it to be a very laid-back Caye, great restaurants, cold beer and Reggae Music playing 24/7.
Our Top Belize Activity
We have never swum with Sharks and one of us had never snorkeled in open waters,  so the thought of swimming with sharks was overwhelming. The pressure was on, most of the travelers we met in Caye Caulker all talked enthusiastically about swimming with the sharks in the Hoi Chan Marine Reserve.  Checking around with the locals to find the right tour company to take us out for the day the general consensus was to book  Carlos's Tours, he was one of the original companies and Carlos is an accomplished underwater photographer and offers all his guests a CD featuring photographs from their snorkel outing.
We head off to find Carlos and book for the following day at a cost of USD65 per person. As part of our tour costs USD20 per person is a fee for the protection of the reef in Belize and this is handed to the Park Ranger whose office by day is a boat situated at the entrance to the reef area. Full snorkeling gear is provided.
There are 3 other couples today besides us and we introduce ourselves and settle in for the 45-minute ride to the reef.
Jane has no experience in swimming with  strong currents and is a novice in snorkeling and is finding this all a bit nerve wracking.  Carlos is a patient and confident experienced  tour leader and soon has her in the water swimming with the sharks !
Snorkel gear on we all jump off the side of the boat and immediately see large sea turtles heading towards us, eels and brightly coloured schools of fish.
Coming face to face with a black groper Jane flinches and motions that she was eating his brother the other night.   As we are snorkeling, Carlos is free diving, swimming and  filming us underwater.
The current was quite strong but Jane managed to stay down with the group with assistance from Carlos.
45 minutes later we headed off to lunch at our own cost on Ambergris Caye in Belize.
We had considered spending a few nights in Ambergris Caye but we are so glad we didn't.  It is more commercialised, has cars and definitely has not got that laid back feeling of Caye Caulker.
Our next stop was Shark Alley where we snorkeled with Nurse Sharks and Stingrays.  Prior to  snorkeling Carlos throws smelly fish into the ocean to feed them before we all get in.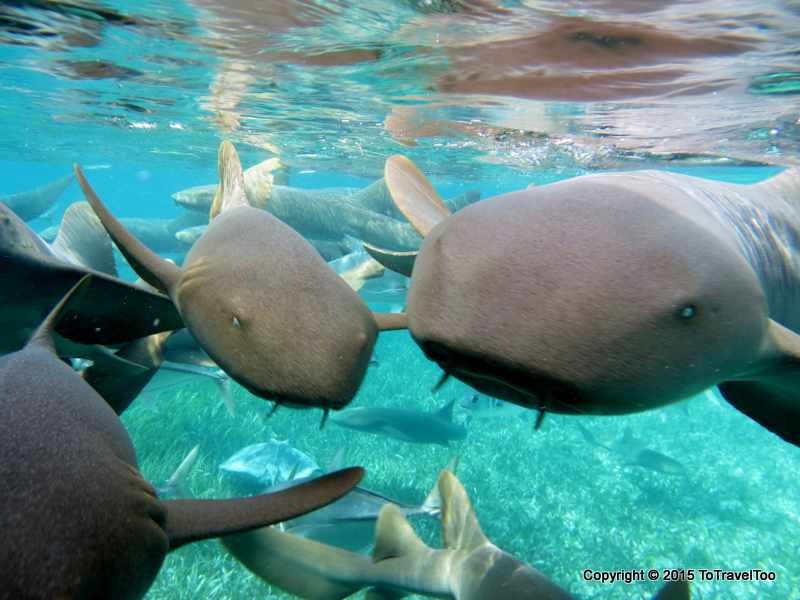 We jumped off the side of the boat and joined hundreds of Nurse Sharks and the Stingrays that have joined the feeding frenzy.  It is not as frightening as we all thought, thanks to Carlos and his feeding program.
We are joined by some very large stingrays.
Next up is swimming with the Manatees, large gray mammals that are closely related to the elephant and the hyrax (a small gopher sized mammal).  Carlos motors around the reserve looking for signs of the Manatee and locates a female.
She has flippers at the front and she comes up and stares at you with her wrinkled face with whiskers on her snout. As we pack up to leave to go back to shore she surfaces with her nose, has a sniff around and then sinks back into the ocean.
Back at Carlos's office we wait whilst he loads the photos up on his computer and produces a CD for us all to keep.
Carlos and his snorkeling tour is ranked #4 in Tripadvisor among 35 attractions on Caye Caulker in Belize.
Cost of CD USD15
Cost of Tour USD65 per person
Check out the best accommodation using TripAdvisor: Click Here!
For more information on Caye Caulker: Click Here !